FIELD HOSPITAL BED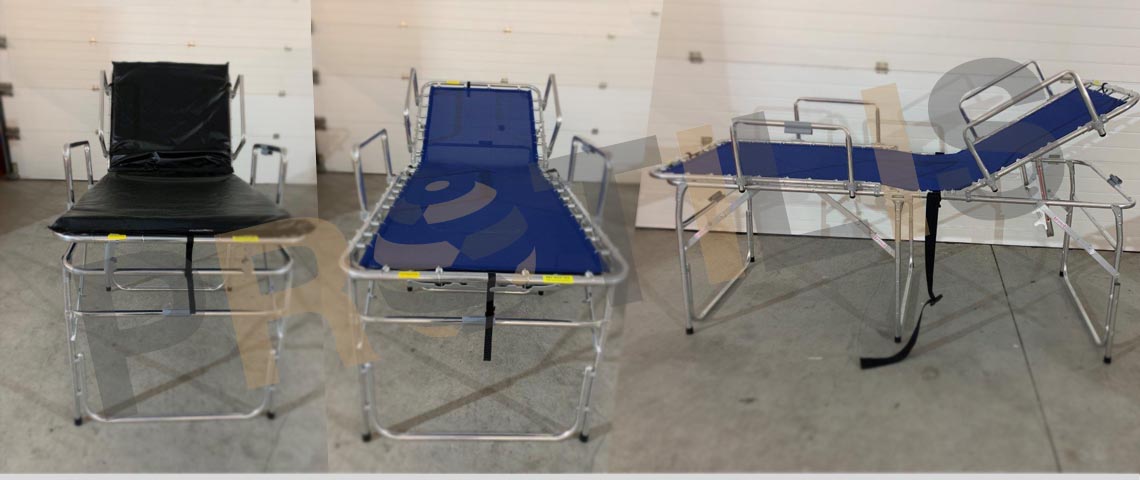 The field hospital bed responds to an increasingly pressing need in the face of the current situation - how to rapidly increase the response capacity and hospitalization of patients in a crisis situation, without compromising resources and space in times when this capacity is not required?
This bed includes unique features in articles of this type, which allow it to fulfill exactly this purpose - it is fully foldable, light and robust, taking up little space when it is not needed, but it can be placed in a position for use by a single person , in less than a minute.
Additionally, the bed is fully decontamination, exceeds FED STD 1633 for flammability and includes a comfortable antimicrobial mattress.
Its anti-tip design prevents the bed from inadvertently tipping over, ensuring patient comfort and safety.
In medical terms, the hospital camp bed is extremely complete, allowing the head to be raised in 5 positions and the feet in 2, and has a support fitting for infusion lines. For greater comfort and reduced fatigue for medical professionals, the bed is high enough (71 cm) to allow patients to perform procedures without resorting to uncomfortable positions that require bending the back for long periods
UTILIS provides complete and "turnkey" solutions for field hospitals, advanced medical posts and other hospital modules, within the civil and military markets.
With the help of a specialized team, UTILIS studies the project with the client, with the aim of providing him with all the necessary advice, both medical and logistical.
.
Emergency and general hospital modules are designed and supplied for mobile and durable applications. We also offer a range of treatment modules that are varied and adapted to the needs of all missions.
Competent teams accompany you in the installation and train your staff by organizing catastrophe scenarios similar to real catastrophes.